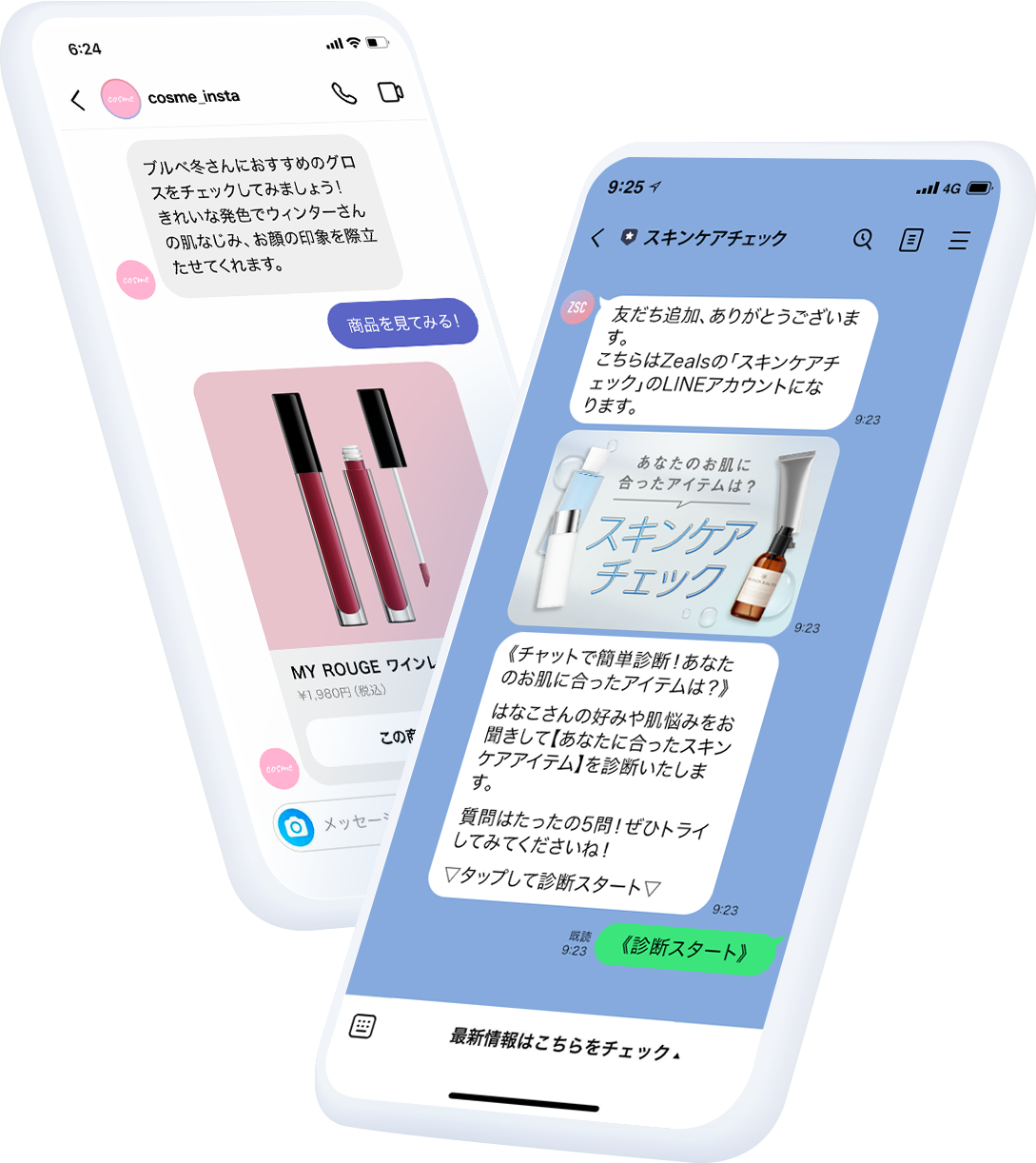 OMOTENASHI REVOLUTION WITH CHATBOT
OMOTENASHI REVOLUTION
with Chat Commerce

What is Zeals "Chat Commerce"?
ZEALS's "Chat Commerce" delivers new customer service and purchasing experiences to users through a combination of AI chatbot technologies and communications designed by our professional team.
Pay-per-performance service

We don't charge fees until we've achieved something..

*An internal audit is required before implementation of our service.
*Any cost incurred by official LINE accounts will be charged separately.

Hassle-free setup

Our service can be installed in just a few simple steps.After implementation, our dedicated staff members will provide you with all the support you need.

High quality communication design

Our communication designers analyze and design optimal conversations for you based on our data and past performances.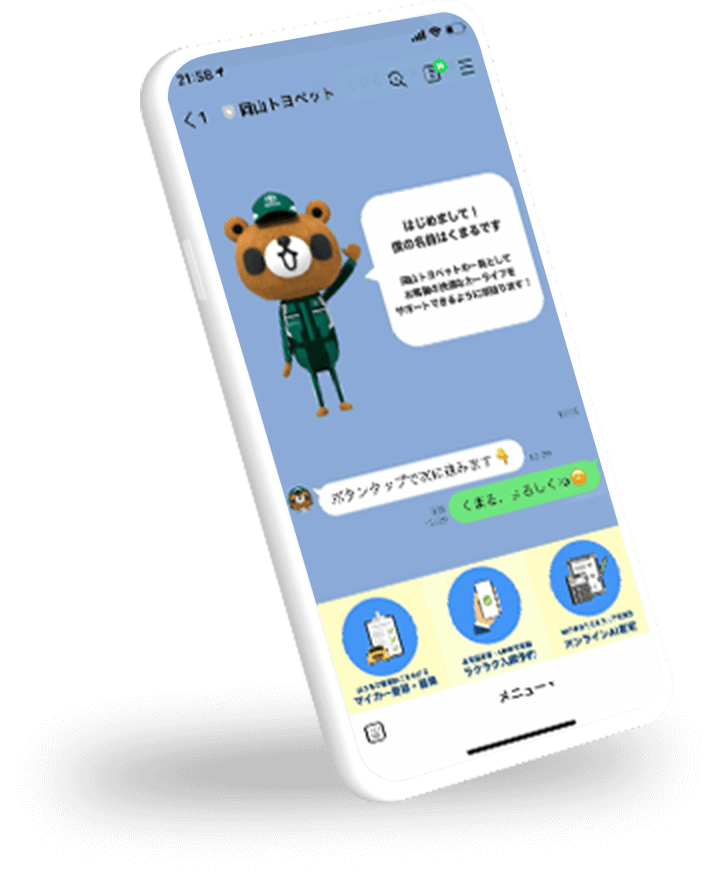 ©HP/OKTP
Working with automobile dealers
The booking process for vehicle inspections - which typically includes loads of offline work including phone calling and mailing -has now been automated by Chat Commerce. It automates notifications about vehicle inspections and relieves stress on both car owners and automobile dealers.
Man-labour reduced by
80%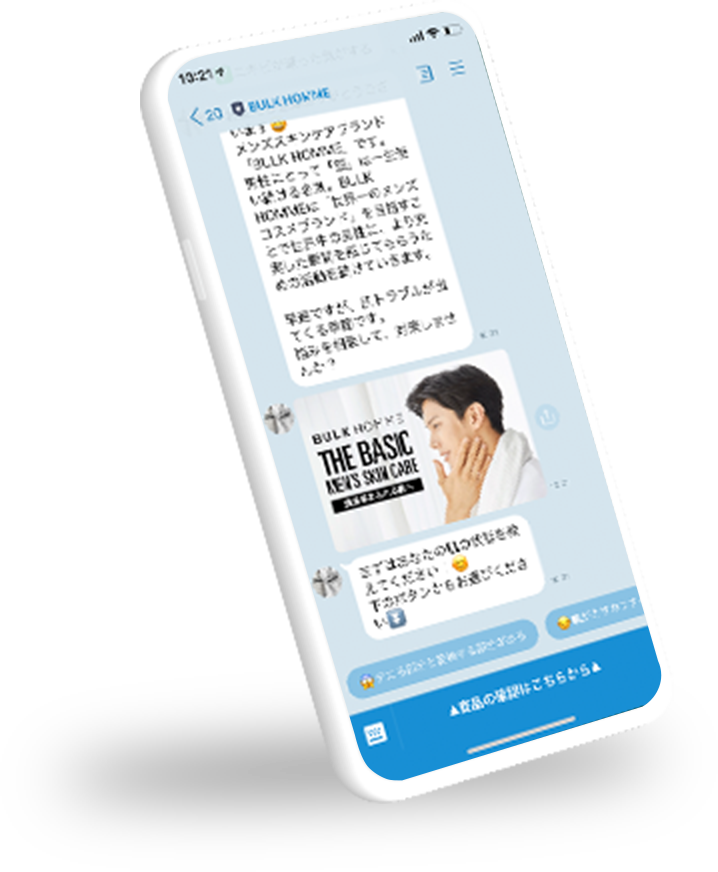 Working with a men's cosmetic brand
We saw immediate results from the first month after introduction. Numbers of end users significantly and speedily increased.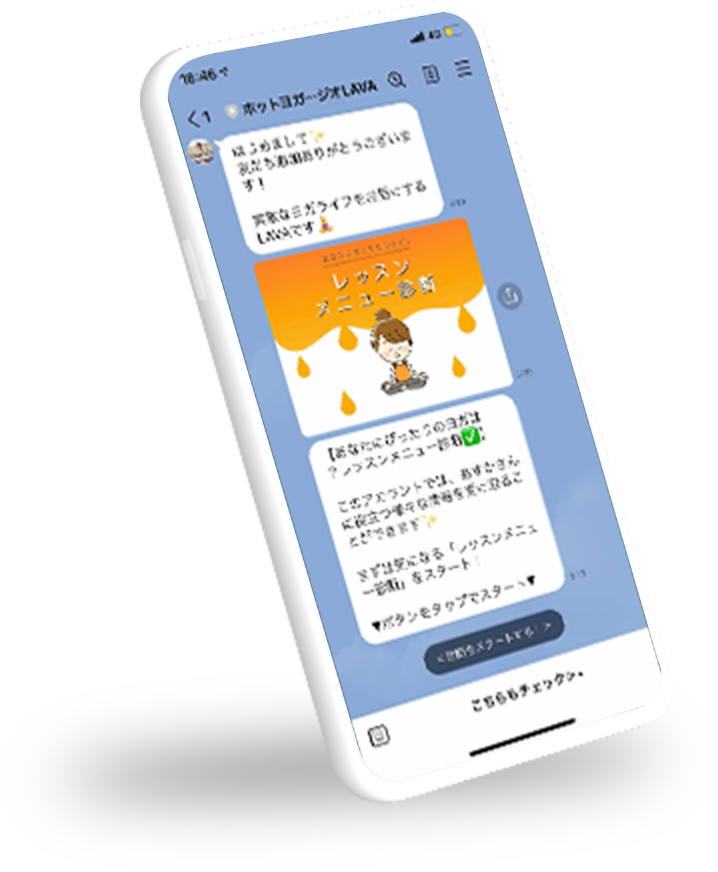 Working with a hot yoga studio
We automated communication for trial applications and achieved high sign-up rates.
Significant increase in sign-up rates.
Why Zeals?
The largest and strongest specialized team in the industry

The Chat Commerce industry is rapidly growing and requires speed as well as communication designing skills. These are our strengths:

・Global development team responding to new technologies
・Continuous improvements to communication design
・Made-to-order product based on your corporate brand/identity

With our strong development and operations teams, we're able to produce results even in large-scaled projects.

Risk Management Structure

We have established a comprehensive risk management structure.

・We have a safety management system to prevent incidents from occurring.
・Our in-house legal team reviews all of our products based on a very specific guideline.

These are just some of the reasons why we've been chosen by some of the largest companies in Japan.

Rich functions to generate high performance

Our "Chat Commerce" service has many unique functions to make things happen.Currently, many companies are seeking:

・measurements to third-party cookie restrictions
・alternatives to affiliate marketing with higher performance and less risk

We support our clients to optimize their ROI by improving their CPA and increasing sales.

Customer engagement through omnichannel

ZEALS's "Chat Commerce" can be implemented across an expanding range of media, including but not limited to LINE, Instagram, and digital signage displays.

・Providing optimal communication design tailored to each media.
・Omnichannel structure made possible through advanced system integration.

We aim to support each end user's customer journey and help maintain consistent engagement across all channels and touchpoints.

Maximizing Customer Lifetime Value through core system integration

We integrate with CRMs and CDPs to provide communications optimized for various media and funnels.

・Acquisition of new customers
・Prevent interested audience groups from leaving but promote further actions
・Convert existing customers into loyal customers

We provide a one-stop-solution through our full funnel structure.
Secured security
Our service is based on a trusted security standard.
ISMS certified
P Mark certified
Chat Commerce "Zeals" has been installed
in a wide range of businesses.
Used by +400 enterprises.

Analysis of data from
1.2 billion conversations

98.9% of clients continue
utilising the service
Certified business partner of LINE
We are certified by LINE as a LINE Technology Partner and a LINE Sales Partner.